Beatles Tribute band coaching
Do you play in a Beatles Tribute Band? If you're serious about playing The Beatles and you want your band to stand out, I offer professional consultation as a Vocal Coach and Band Coach for Beatles Tribute Bands.

Here is a partial list of the bands who, in the world, use my singing lessons to play The Beatles:

Abbey Road Beatles Tribute, USA
Across MX, México
BackBeat, Australia
Banda Total, Brazil
BeatBang, Perù
Beatle Magic, Australia
Beatlerama, USA
Beatles Again, Brazil
Beatles Brazil, Brazil
Beatles Forever, Brazil
Beatfingers, Brazil
Britain's Finest, USA
Carnaby Street, France
Datura Stramonium, Italy
Dear Beatles, Argentina
Edder Beatlesboy, México
Expresso 1962, Brasil
FantaBeatles, Italy
Fourever Fab, USA
Get Back, Perú
Get Band, Spain
Glass Onion, USA
Grupo Imagina, México
Grupo Revolver, México
Helter Skelter Beatles Covers, Argentina
I Beatles a Roma, Italy
Jukebox Beatles, Puerto Rico
Just Beatles, Scotland
Lassieante, Norway
Les Chats, in Canada
Les Triplettes, Italy
Los Bluecats, Perù
Los Kuikuiris, México
Los Pibes Chorros, Argentina
Love Me Do, USA
Magical Mystery Four, USA
Matchbox Beatles, Brasil
Mojo Filter, USA
Mr Kite; México
Mr Sun Beatles Tribute, Brazil
Nemesys, USA
Nowhere Band, Chile
Oh Darling!, Mexico
Old Guys Rules, México
Paco Alvarado, México
Paul Ross, Argentina
Plastic Souls, Italia
Plastic Souls, USA
Revolver Beatle, Argentina
Star Beatles, Argentina
Sgt. Pepper, USA
Smooth crossing, UK
Tangerine Trees, México
The 4 Beats, Germany
The Back Beets UK
The Beatall, Italy
The Beatlemaniacs, USA/Canada
The Beatles Rock Show, Brasil
The Beetups
The British, México
The Brothel Creepers, Italy
The Crosswalkers, Italy
The Day Trippers, Canada
The Duskwhales, USA
The Flying Ants, UK
The GoodFellas, USA
The Letter B, USA
The Moondogs, México
The Moon Loungers
The Nowhere Band, Italy
The Nowhere Boys, Mexico
The Repeatles, Sweden
The Silvers, México
The Starclubbers, UK
The Strawbyrds, Argentina
The Strawberry Band Forever, Italy
The Suedeheads, México
The Triflers, Italy
The Truffles, Iltay
The Warm Gun, Italy
The Wonders, Italy
Ticket 2 ride, USA
Top Secret, Spain
Vini, Lindsay & Isaac, Brazil
Sgt. Pepper's band, Brazil
Beatles vs Stones, Spain
The Singles and Vix Beatles, Brasil
Jay Goppener, USA
The Bitles, Italy
The Calangles Rock Band, Brazil
Ticket to Beat, Italy
The Beat Brothers, Brazil
The Fab Four, UK
Apple Beatles, Argentina
BeatRepeat, Italy
The New Lions / The Blues Band, Brazil
Mans Lliures, Spain
Beatlesmaniam, USA
Beatles Soul, Brazil
Four of Us, porto Rico
Let it Beatles, México
Psico Acoustic, Spain
Backtrack, USA
The English Channel, USA
Grupo Help! México
Golden Hammers, México
The Forsale, Japan
Fourever Fab, Hawaii
The Beatniks, USA
The Beatlemaniacs, Canada
The Wigs, México
The Silva Beatles, Brazil
Hey John, Brazil
The Skelters, Italy
Meet The Beatles, USA
55 South, USA
Never Mind The Bullocks, USA
Magical Mystery, Brazil
Banda Night Before, Brazil
Bad Boys BeatleBand, Argentina
Cheep Dogs Beatles, México
Vintage Band, Brazil
Melody Makers, UK
Apple Core Band, USA
The Bichos Rock Band, México
Number 9, USA
Nice to Meet You, Italy
The Biutres Rock band, Argentina
The Motor Runs, Japan
Pepperland Beatles, México
The Vaghi Beatles band, Italy
The Ladybugs, UK
The Nowhere Boys, Colombia
Penny Lane, USA
Vintage Beatles, Brazil
The Hillocks, Italy
The Fat Four, Italy
Blues Beatles, Brazil
Banda Heartbeatles, Brazil
The Red Bees, USA
Jezer, Kris, Rebadulla; Philippines
The Beatles Tribute, USA
Across the universe band, México
Father and son, Germany
The Vox Beatles, UK
The REO Brothers, Philippines
The Fab Fourever, Canada
Ultimate Beatles, UK
Beat Boys, Spagna
Hey Beatles , UK
The Rockits, UK
Sgt. Pepper's, Italy
Mersey Beat, Italy
Meat the Beetles, Turkey
Sergio Jackson, Argentina
Blue Jay Way, Italy
Wonderwall The tribute, USA
New Beatles, Brazil
Wingsbanned, UK
The Australian Beatles, Australia
Beatles, Forever, Perù
Lenin & McCarthy - Argentina
Paul is live, USA NY
Scrambled Eggs, México
El Americano, Spain
The Vox Beatles, UK
The Back Beatles, Brazil
The Pretend Beatles, UK
Liverpool, Bolivia
Women un Beatles, Italy
- Do you feel you need some expert advice to sound more like The Originals?
- Would you like the same dozens of thousand views I have on Youtube for your covers?
- Is your band is missing something that prevents it from getting more profitable gigs?
- Would you like to hit the big venues like the best Beatles Tribute Bands?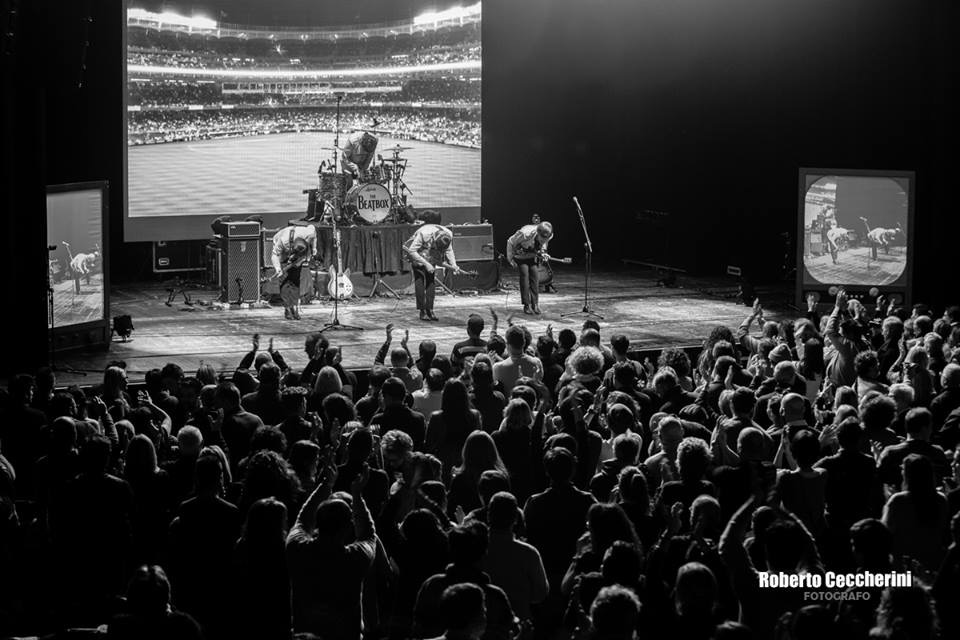 In 30 years I have dissected hundreds of Beatles songs, that is why some of the most famous Beatles Tribute Bands address to me for refining their vocal and instrumental performance to sound closer to the "Real Thing" and increase their fan base and cachets.

Ask me to join your Beatles Tribute Rehearsal.

We can do it face to face or via Skype, Google Hangouts or Facetime.

I will teach you all the secrets to easily reproduce the amazing singing and instrumental performance details that John, Paul and Ringo used in their records and live performances. How to rehearse the songs in a clever way, how to achieve the same sound and "feel" that makes The Beatles music so unique and special and that I recreate in my video performances.